RIP: Bertil Falk 1933-2023
– A Fantastic Storm Has Abated
I have never known anyone with so much energy as author-publisher-reporter-translator-sf-expert-etc Bertil Falk. Now after a long time's illness this hurricane of a force is no longer with us. It may be of slight consolation that he managed to publish several of his life projects before finishing his 90 years on Terra, ending October 14th.
  His Swedish translation of James Joyce's "untranslatable" Finnegans Wake came last year, a work of love taking 60+ years, https://www.barnesandnoble.com/w/finnegans-likvaka-james-joyce/1140777850. We also saw his massive, three-volume history of science fiction in Swedish, Faktasin https://www.waterstones.com/book/faktasin/bertil-falk/9789187619519 . Unlike earlier sf history works, it covered what's been written in Swedish only, making it a unique study. And a little earlier came his biography Feroze: The Forgotten Gandhi https://www.goodreads.com/book/show/32497499-feroze, covering Indira Gandhi's husband, written in English and well received in India, discovering a man that really had been mostly forgotten. An interview about this book: https://www.facebook.com/hindustantimes/videos/in-conversation-with-bertil-falk-author-of-feroze-the-forgotten-gandhi/10155353707873580/
  But Bertil Falk did so much more! I first met Bertil on the SF-Kongressen 1977 and was later contacted to help out with a very nice (lots of old-timers showed up!) Spacecon in 1980, where Bertil with companions Anders Palm and Lasse Junell launched a Captain Future pulp-format novel. Bertil had been a fan of this "Wizard of Science" since crawling out of the cradle, finding him in the 1940's pulp Jules Verne Magasinet. As a journalist he later met and interviewed Captain F's author Edmond Hamilton. And when he revived Jules Verne-Magasinet in the late 1960's he published "The Return of Captain Future". His interest in good old space adventures made me found Bertil Falk's Space Opera Prize (RSN winner TBA!). I hope there is enough interest to make it annual.
  I got to know Bertil really well after I in 1982 was engaged in the popular tech/science magazine Tekniknmagasinet. Bertil wrote lots of articles for us and though he lived in the south he often came up before deadlines to help out, beside his then dayjob at the Kvällsposten evening paper. When you heard a typewriter hammer fast, hard and relentlessly you knew that Bertil had arrived to our little office. Though at times breaking even, the lack of astronomical success made our magazine slip away to another publisher. But we co-workers kept in touch.
  Bertil then crossed the North Sea working for the newly started TV3 satellite channel in 1987. Transmitting from London it challenged and in effect tore down the Swedish government TV monopoly. Bertil eg made a fine historical report on Jack the Ripper for the station.
  He wrote non-fiction on many subjects, especially popular culture history (pulps, crime fiction, comics), as well as hammering out short stories (countless cosy mysteries for the weeklies) and novels (sf and crime). He was also translator and sometimes the publisher of the results through his publishing house Zen Zat.
  He was especially interested in "reviving" popular fiction writers from yesteryear, and re-printed stories and books by eg Sture Lönnerstrand, Vladimir Semitjov, August Blanche, Aurora Ljungsted, Ed Hoch, Jacques Futrelle and others. His Swedish Wikipedia entry lists ca 50 "selected writings" (mostly book titles) and 25 "selected translations", but there's more than those selections. Of his later production, beside Joyce and Faktasin, he was especially proud of his Viking detective stories about Gardar Gåtlösaren ("Gardar Riddlesolver").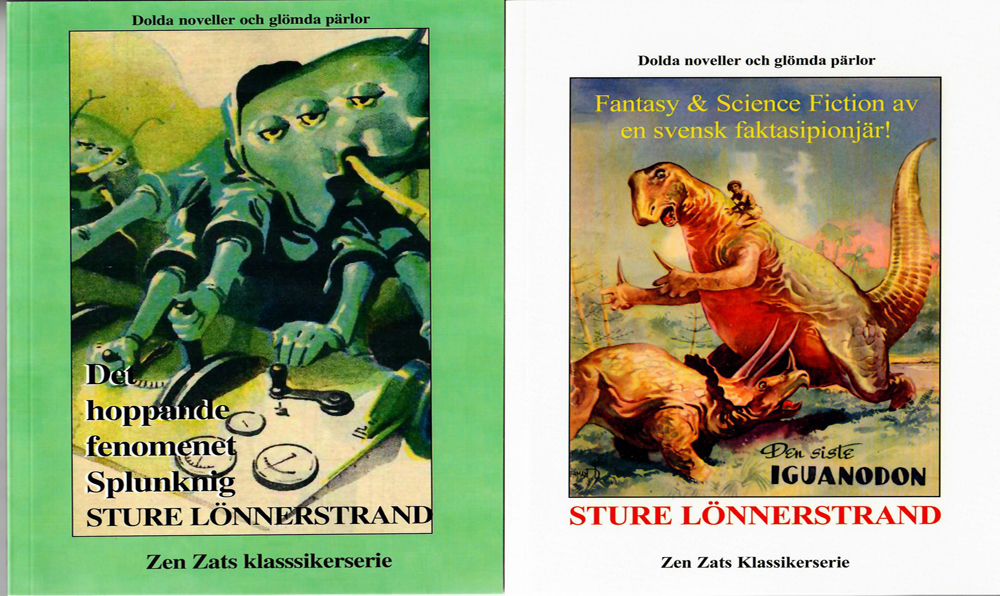 In Zen Zat's planetary system of whirling massive objects, every December saw flashing falling stars in the form of Bertil's small printrun – 100 copies tops – Christmas specials. They would have virtually anything you could wish for, eg a reprint of Bertil's short story debut at age 12, "A Trip in Space" (1946, see https://file770.com/bertil-falk-from-a-space-hobo-to-finnegans-wake/ ) and debut in longer format, "The Masked Gangleader" (1954). One A Engholm's first short story collection Murder on the Moon was more like a tiny asteroid in Bertil's rich and vivid publishing space…
  From the late 1990's and for several years he continued exploring popular literature history as editor of DAST Magazine, acronym for D)etective A)gent S)cience fiction T)hriller. Bertil was no doubt among our foremost experts on early magazine fiction and the history of the sf genre in general. But it was a broad approach allowing for Joyce and modern poetry beside pulp heroes and locked-room mysteries. I often appeared in DAST (Bertil inspired my interest in genre history) and about the same time he dragged me into the newly founded Short story Masters society. It became a bubbly source of more short stories and anthologies. One example is the probably first anthology of Swedish crime fiction in English, Crime the Swedish Way, with Bertil as a main initator. He went to the Bouchercon 2008 to hand out and promote the anthology.
  "Falk" means Falcon. Bertil flew high and wide, and his sharp Falcon eyes gazed at the the broad horizons of literature.

–Ahrvid Engholm
Tora Greve skriver:
Jag träffade Bertil Falk först på en kurs i zenmeditation i Malmö. Då höll han på att planera en vandring till Amar Nath-grottan i indiska Kashmir tillsammans med journalisten Triloki Nath Dahr från Radio Kashmir. Jag följde med som Himalaya-expert. Bertil skrev en reportageserie i Kvällsposten om denna resan, och jag skrev om den i den ockulta tidsskriften Arcanum. Senare har jag samlat mina erfarenheter från Himalaya i boken Gudinnan från Limhamn.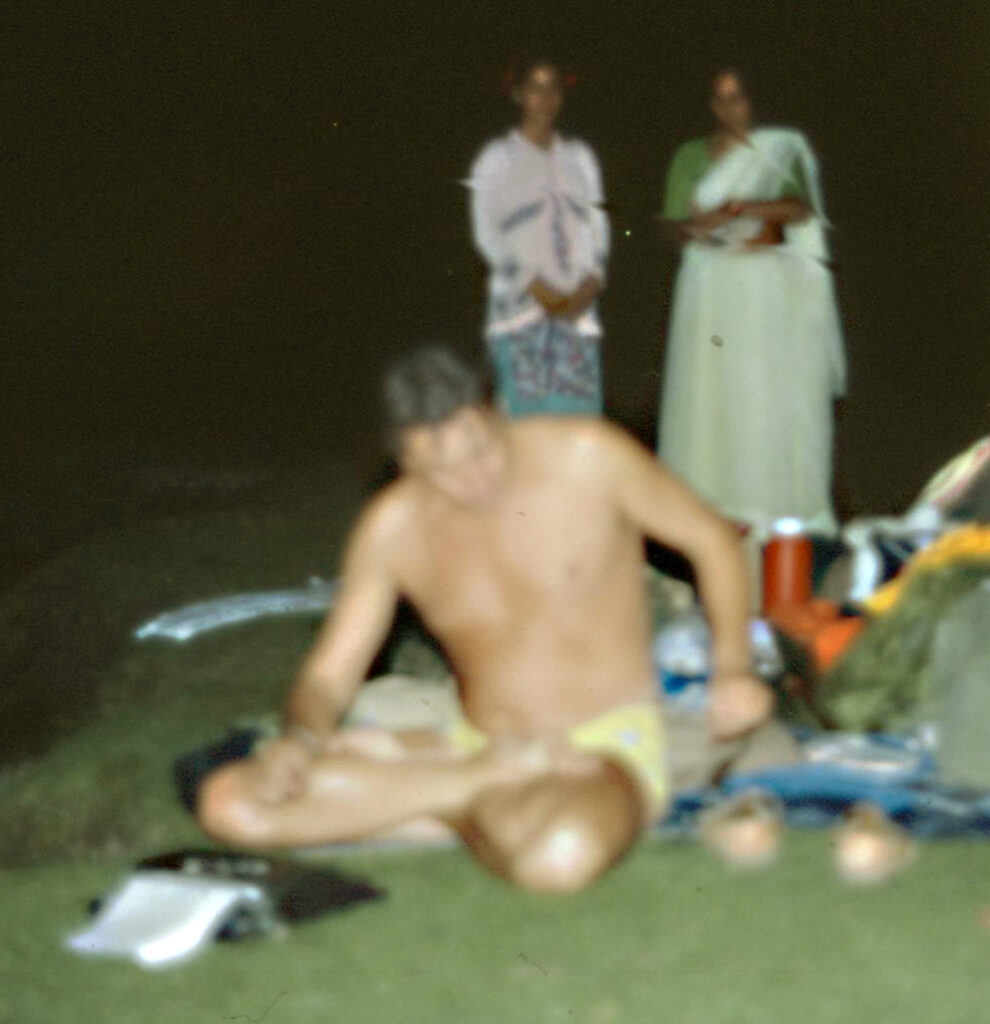 Bertil skriver reportage i Himalaya. Dålig analog diabild utan blixt, men skrivmaskinen kan skymtas.
Sedan fortsatte vår vänskap med samarbete och trädgårdssällskap i Västra Alstad. Vi var bägge intresserade av science fiction. Bertil publicerade de två första novellsamlingarna av Sture Lönnerstrand på sitt förlag ZenZat.
Vi delade monter på Bokmässan i Göteborg 2015, 2016, 2017.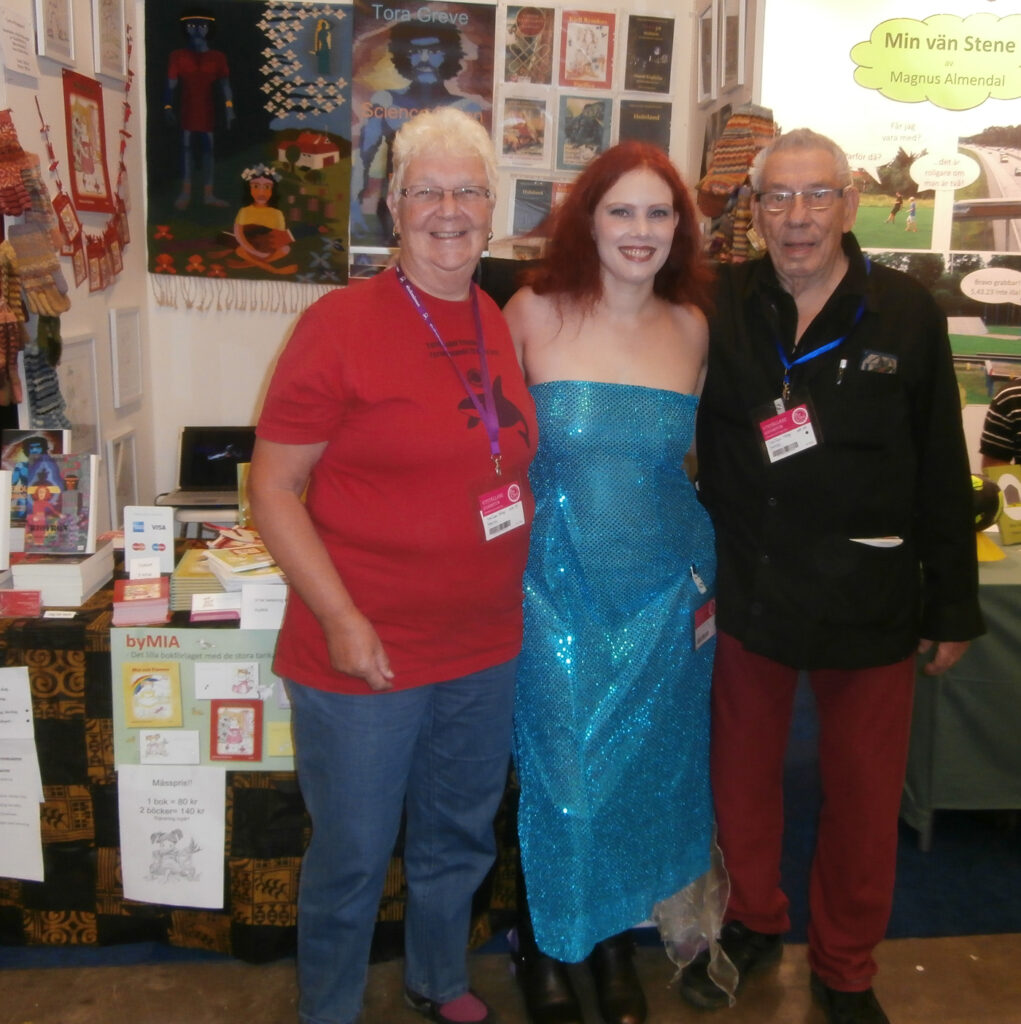 Bertil var också med på flera arrangemang med Andra Världar, 2013, 2014 och 2015.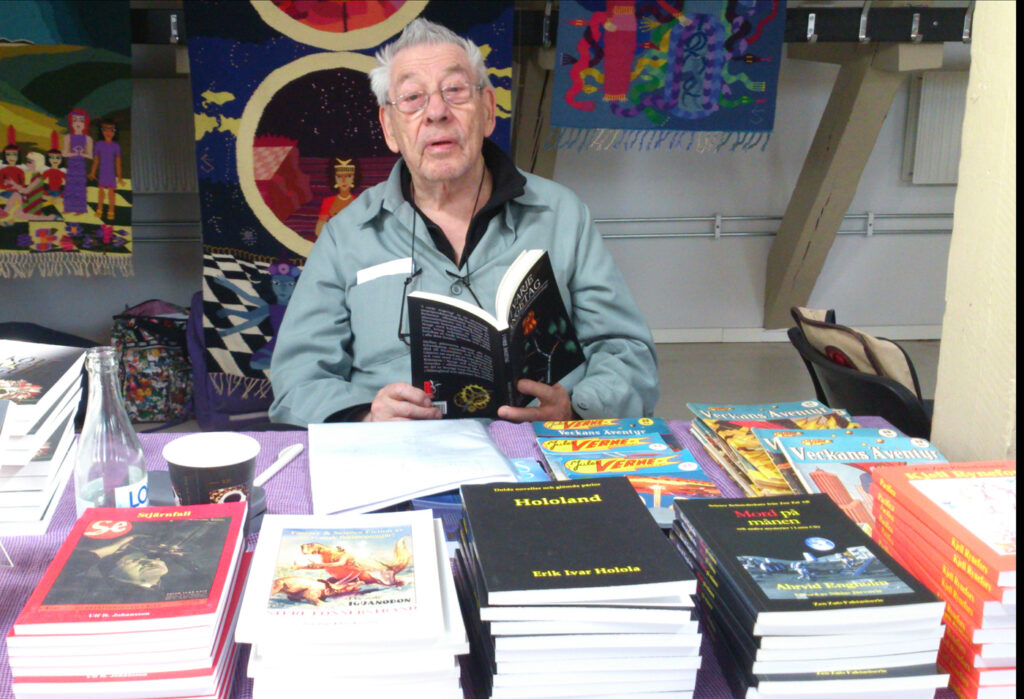 Bertil läser steampunknoveller under Andra Världar i Jönköping 2014.
Då han la ner sitt förlag, fortsatte jag med Lönnerstrand på mitt förlag, och tog över några av restupplagan från ZenZat. Det finns fortfarande intresse för dessa böcker. Sålde några senast på bokmässan i Göteborg. Men jag har bara runt 20 ex av varje kvar, som jag kommer att ha med i olika sammanhang.